Helpful Baking Tips & Tricks For The Holidays
By USDR
December is full of traditions but none is sweeter than the baking that happens when home cooks across America get busy whipping up cookies, cakes, confections and yes, even the much maligned fruitcake. In fact, home cooks surveyed by two of the largest online baking sites1 estimate they will bake more than a billion cookies in December alone!
Sharing family recipes that have been passed down through generations is part of what makes the holidays so special. The baking experts at the California Milk Advisory Board (CMAB), representing more than 1,500 California dairy families, have created a calendar of tips and tricks to make holiday treat-making as enjoyable as the season itself. Tips include substitutions for commonly used ingredients as well as suggestions for surviving baking disasters.
"Holiday baking is about sharing love and California dairy products are very much a part of how we share this season," saidJennifer Giambroni, Director of Communications (and chief baked-goods tester) for the CMAB. "And, when you bake with butter, milk, cream or other dairy products with the Real California Milk or Cheese seals, you know you're using quality ingredients that are made with milk from hard working dairy families."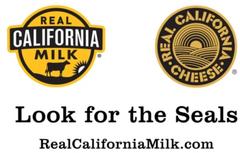 One classic recipe –
California Butter Cookies http://bit. ly/fRH4JK – is a perfect option for gifts or guests. The dough can be frozen so you can make some now and stash some away for later in the month when you want to gather with friends for a cookie exchange. It makes a great base for frosted treats of all shapes and sizes or can be dressed up with nuts, raisins or chocolate to serve with coffee or tea when guests stop for a visit.
The CMAB also has a downloadable baking guide with everything you need to know about baking with California dairy http://bit. ly/zsX8JD. For more delicious holiday recipes, including recipes from the Real California Cookbook, which features favorite dishes from consumers (and makes a great gift) – visit RealCaliforniaMilk. com.
All opinions expressed on USDR are those of the author and not necessarily those of US Daily Review.