Read Time:
2 Minute, 31 Second
By USDR.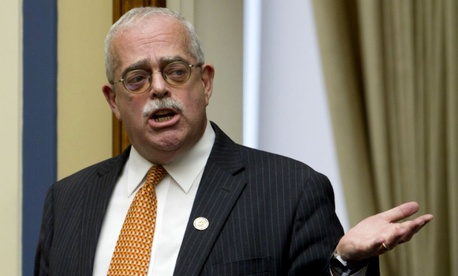 Citizens Against Government Waste (CAGW) is reexamining its credit card statement after naming Rep. Gerry Connolly (D-Va.) its October 2013 Porker of the Month for his fervently held, but conceptually flawed, grasp of macroeconomics, a backwardness that borders on "National Debt Denial Syndrome." Rep. Connolly's unenlightened remarks occurred on October 17, 2013 during an interview on Washington, D.C.'s local ABC station's (WJLA) "News Talk with Bruce DePuyt" regarding the debt ceiling increase.
"You know, we just raised the debt limit for a period of time. And that's kind of like saying we're going to raise the legal limit for blood alcohol, thinking we're going to control drunk driving."
During the live interview, DePuyt wisely stated that spending only what is earned is essential for both the federal and state governments in order to maintain a balanced budget. Rep. Connolly forcefully contradicted the comment, saying, "That is not true. We don't live within our means, and within reason, if you manage it well, you can actually improve your credit rating because it extends your quality of life." Rep. Connolly also claimed that balancing the budget would call for additional spending cuts that would be "ruinous to the U.S. economy and ultimately qualify the U.S. as a second-rate part of the world."
Rep. Connolly's backward argument would certainly come as a surprise to the credit rating agencies. During the last debt ceiling conflict in 2011, Standard & Poor's (S&P) downgraded the nation's credit rating. In taking such a dramatic action, S & P did not endorse additional borrowing in order to improve the rating. In fact, in what must have seemed like a wacky turn of events for Rep. Connolly (in the Bizarro Fiscal World he apparently inhabits), S & P cautioned U.S. political leaders to get the nation's fiscal house in order and reduce record budget deficits and the national debt. In addition, during the October 2013 partial government shutdown and ensuing wrangling over the debt ceiling increase, Fitch Ratings (apparently also not familiar with Rep. Connolly's novel economic theories), again warned of a potential credit downgrade.
Sen. Tom Coburn (R-Okla), whose grasp of Economics 101 remains fully intact despite years of being exposed to Washington's tortured budget machinations, expressed a much more commonly-held and fact-based perspective on the national debt when he commented during his October 20, 2013 appearance on NBC's Meet the Press. He said, "You know, we just raised the debt limit for a period of time. And that's kind of like saying we're going to raise the legal limit for blood alcohol, thinking we're going to control drunk driving."
For his careless and uninformed statements, which prove that he is either ignorant of unsustainable obligations or willfully engaging in political demagoguery, and for helping to impose an ever more onerous financial burden and lower standard of living on future generations,