Escaped Killers on Large in New York
From  CNN:
The U.S. Marshals Service issued federal arrest warrants Sunday for two convicted killers who escaped from a maximum security prison in upstate New York over the  weekend.
The warrants charge Richard Matt and David Sweat with unlawful flight to avoid prosecution, according to William O'Toole, a U.S. Marshals Service spokesman. The warrants clear the way for the federal government to involve its considerable resources in the  manhunt.
"Every resource available to us will be used in bringing these two men to justice," O'Toole  said.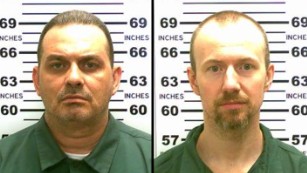 EXPAND  GALLERY
Also Sunday, New York Gov. Andrew Cuomo announced a $100,000 reward for information leading to the pair's  capture.
"We're leaving no stone unturned," Maj. Charles Guess of the New York State Police said Sunday. "All available assets are being brought to  bear."
Matt, 49, and Sweat, 35, were discovered missing from their cells Saturday morning during a "standing count" of inmates at the Clinton Correctional Facility in Dannemora, New York, state police  said.
The pair used power tools and decoys designed to look like their sleeping selves in the sophisticated plot, they  said.
According to authorities, the inmates — who occupied side-by-side cells — cut through a steel wall and followed a series of tunnels until they emerged from a manhole outside the… (read  more)
All opinions expressed on USDR are those of the author and not necessarily those of US Daily Review.