Read Time:
6 Minute, 24 Second
By USDR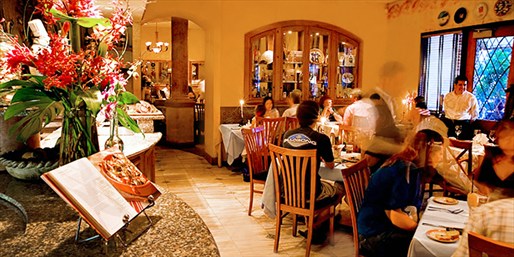 In celebration of the local restaurants diners return to time and again, OpenTable (NASDAQ: OPEN), the world's leading provider of online restaurant reservations, is pleased to honor the 2014 Diners' Choice Award winners for the Top 100 Best Neighborhood Gem Restaurants in America. These awards reflect the combined opinions of more than 5 million restaurant reviews submitted by verified OpenTable diners for more than 19,000 restaurants in all 50 states and the District of Columbia.
Highlighting eateries that contribute to the character of their neighborhoods, the complete list includes award winners in more than half the states in the nation and Washington, D.C., including Lucia's Restaurant and Wine Bar in Minneapolis, Red Gravy in Brooklyn, and The Yellow Porch in Nashville. California has 24 winning restaurants sprinkled throughout the state, followed by New York with 10, and New Jersey and Pennsylvania with six each. Both Florida and Georgia have five honorees, while Massachusetts and Texas each boast four. Illinois, Maryland, Minnesota, Tennessee, Washington, and Washington, D.C., all have three winners, and the states of North Carolina, New Mexico, Ohio, Oregon, and South Carolina have two apiece. Alabama, Colorado, Delaware, Indiana, Missouri, Nevada, Oklahoma, and Utah are also represented.
Although American fare is the most popular cuisine, Italian cuisine was a close second, with 25 restaurants specializing in dishes inspired by Lo Stivale, or The Boot. French fare is popular as well, as are seafood and southern menus.
"The winning restaurants on this list are in many ways the heart and soul of their neighborhoods, offering much more than delicious meals," says Caroline Potter, OpenTable Chief Dining Officer. "They provide a place that inspires a real sense of community and pride, making local area foodies feel right at home, night after night."
The Diners' Choice Awards for the Top 100 Best Neighborhood Gem Restaurants in America are generated from more than 5 million restaurant reviews collected from verified OpenTable diners between June 1, 2013, and May 31, 2014. All restaurants with a minimum "overall" score and number of qualifying reviews were included for consideration.  Qualifying restaurants were then scored and sorted according to the percentage of qualifying reviews for which "neighborhood gem" was selected as a special feature.
Based on this methodology, the following restaurants, listed in alphabetical order, comprise the Top 100 Neighborhood Gem Restaurants in America according to OpenTable diners. The complete list may also be viewed at http://www.opentable.com/m/best-neighborhood-gem-restaurants-in-america/.
2014 Diners' Choice Award Winners for the Top 100 Neighborhood Gem Restaurants in America
Diners can also read more about the Diners' Choice Awards for the Top 100 Neighborhood Gem Restaurants in America by visiting the OpenTable "Dining Check" blog.
About OpenTable Restaurant Reviews
Originally launched in November 2008, the OpenTable Reviews program helps diners find restaurants that best fit their dining occasions.  Diners who recently honored an OpenTable reservation are invited via email to submit restaurant feedback using an online form. Visitors to OpenTable can access reviews for thousands of OpenTable restaurant partners across the United States, Canada, Germany and the UK.  The OpenTable Reviews program has generated more than 25 million restaurant reviews by verified diners, establishing OpenTable as one of the largest and most trusted sources for restaurant reviews.
About OpenTable
OpenTable is the world's leading provider of online restaurant reservations, seating more than 15 million diners per month via online bookings across more than 31,000 restaurants. The OpenTable network connects restaurants and diners, helping diners discover and book the perfect table and helping restaurants deliver personalized hospitality to keep guests coming back. The OpenTable service enables diners to see which restaurants have available tables, select a restaurant based on verified diner reviews, menus, and other helpful information, and easily book a reservation. In addition to the company's website and mobile apps, OpenTable powers online reservations for nearly 600 partners, including many of the Internet's most popular global and local brands. For restaurants, the OpenTable hospitality solutions enable them to manage their reservation book, streamline their operations, and enhance their service levels. Since its inception in 1998, OpenTable has seated more than 620 million diners around the world.  The Company is headquartered in San Francisco, California, and the OpenTable service is available throughout the United States, as well as in Canada, Germany, Japan, Mexico, and the UK. More information is available on http://www.opentable.com.
OpenTable, OpenTable.com, OpenTable logos, and other service names are the trademarks of OpenTable, Inc. and/or its affiliates