What's the Going Rate for Allowances These Days?
By USDR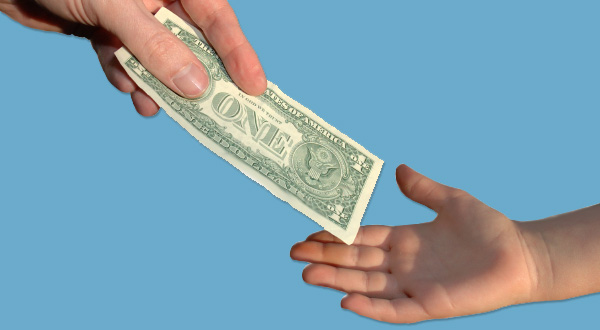 For many of us it was our first source of income, and the first time we experienced the agonizing choice between small bursts of instant gratification versus the long game for saving for something special. Half of Americans (50%) say they received an allowance when they were growing up, and among those with children ages four to 17, six in 10 (60%) say their children receive one. But what's the going rate on an allowance these days? And who's the most generous when it comes to deciding what's an appropriate weekly payout?
These are some of the results of The Harris Poll® of 2,311 adults surveyed online between December 11 and 17, 2013 byHarris Interactive. (Full results, including data tables, can be found here)
Early childhood income gaps
When asked what they feel is an appropriate weekly allowance for children in three different age groups (4-9, 10-13 and 14-17), it is perhaps not surprising that appropriate allowance levels grow as children age (from $4.10 to $8.70 to $16.00, respectively), though it may surprise some to see that it in fact roughly doubles with each progression from one age category to the next. Moreover, there are some distinct shifts between how different groups of Americans perceive what constitutes an "appropriate" allowance:
For all three age categories, Echo Boomers (Americans ages 18-36) and Gen Xers (ages 37-48) are more generous in their assessments than their elders; Baby Boomers (ages 49-67), in turn, report higher appropriate allowance levels than Matures (ages 68+):
For 4-9 year olds – $5.10 Echo Boomers, $5.40 Gen Xers, $3.10 Baby Boomers, $2.00 Matures.
For 10-13 year olds – $10.60, $10.10, $7.30 and $5.40, respectively.
For 14-17 year olds – $18.00, $18.80, $14.00 and $11.60, respectively.
Men consistently are looser with the purse strings than women:
For 4-9 year olds – $4.70 men, $3.50 women.
For 10-13 year olds – $9.90 men, $7.60 women.
For 14-17 year olds – $17.90 men, $14.20 women.
Those with children in their households appear more generous than those without for kids ages 4-13:
For 4-9 year olds – $5.20 with, $3.60 without.
For 10-13 year olds – $9.80 with, $8.20 without.
Republicans may not live up to the "Party of 'No!'" title their political rivals have been pushing, but they do have lower "appropriate" allowance thresholds than Democrats for 10-17 year olds:
For 10-13 year olds – $7.60 Republicans, $9.50 Democrats, $8.70 Independents.
For 14-17 year olds – $14.10 Republicans, $17.50 Democrats, $16.00 Independents.
Some corporations take the local cost of living into account when deciding on their employees' compensation and it would appear that allowances can be subject to this line of thinking as well. Urban Americans project a higher "appropriate" allowance than their Rural counterparts and a higher rate than either Suburbanites or Rurals for 10-17 year olds, in keeping with those regions' respective costs of living:
For 4-9 year olds – $4.30 Urban, $4.30 Suburban, $3.30 Rural.
For 10-13 year olds – $10.00 Urban, $8.60 Suburban, $7.40 Rural.
For 14-17 year olds – $18.30 Urban, $15.70 Suburban, $14.00 Rural.
Interestingly, Americans' household income, of all things, shows little relationship with what they believe allowance levels should be.
Earn it!
Though Americans overall appear to see allowances as appropriate across age ranges, that's not to say they think kids should be given money for nothing. While nine in ten (90%) believe an allowance is an important way for a child to learn about money, the same percentage (90%) feel that if a teenager wants to make money, he or she should get a job, and nearly as many (86%) say that children should only get an allowance when they work for it (doing household chores, for example).
Additionally, nearly three-fourths each believe that bad behavior should be taken out of a child's allowance in some way (74%) and that children shouldn't expect to get paid just for helping around the house (73%).
This last sentiment, that helping out around the house is not, in and of itself, worthy of compensation, is especially strong among Baby Boomers and Matures (68% Echo Boomers, 69% Gen Xers, 77% Baby Boomers, 81% Matures).
All opinions expressed on USDR are those of the author and not necessarily those of US Daily Review.