By USDR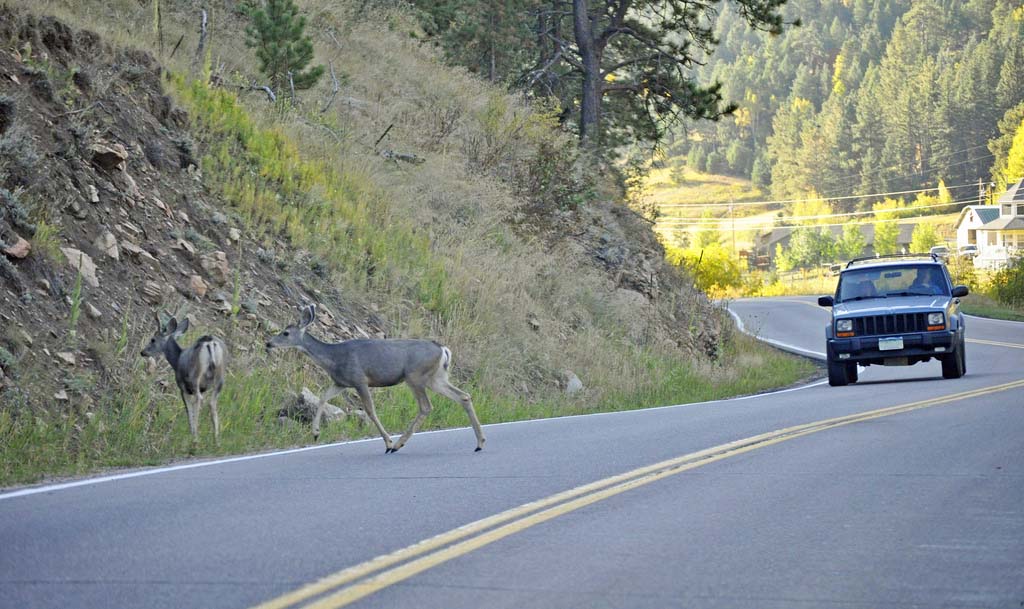 U.S. drivers are nearly 3 percent more likely to collide with a deer in the next 12 months than they were last year, according to new claims data from State Farm.  The odds drivers will hit a deer in the coming year are 1 out of 169, but that likelihood more than doubles during October, November and December, when deer collisions are most prevalent.

For the eighth year in a row, West Virginia tops the list of states where a collision is most likely. The odds a driver in the Mountain State will collide with a deer are a staggering 1 in 39, nearly a 5 percent increase compared to 2013. Hawaii rounds out the bottom of the list also for the eighth year in a row with odds of 1 in 10,281. Hawaiians are three times more likely to get struck by lightning in their lifetime than they are to hit a deer in the next year.The top five states where a driver is most likely to collide with a deer are:
| | | | |
| --- | --- | --- | --- |
| Rank | State | 2014 Odds | Percent + /- from 2013 |
| 1 | West Virginia | 1 in 39 | + 4.9 |
| 2 | Pennsylvania | 1 in 71 | + 7.8 |
| 3 | Montana | 1 in 75 | – 15.4 |
| 4 | Iowa | 1 in 77 | – 5.5 |
| 5 | South Dakota | 1 in 82 | – 9.3 |
Avoid becoming a statistic
Injuries, vehicle damage and fatalities all can result from vehicle collisions with deer.  In 2012, 175 deaths were the result of collisions with animals, with deer being the animal most often struck, according to the Insurance Information Institute and the Insurance Institute for Highway Safety. These tips could help drivers avoid a collision:
Use extra caution in known deer zones
Always wear your seatbelt
At night, when there is no oncoming traffic, use high beams
Avoid swerving when you see a deer
Scan the road for deer and other danger signs
Do not rely on devices such as deer whistles
And here are some deer facts that all drivers should know:
Deer are on all roads
Deer are unpredictable
Deer often move in groups
Deer movement is most prevalent in the fall
Dusk and dawn are high risk times
Whether you live in West Virginia or Hawaii, it's important that drivers are practicing safe driving habits and watching out for animals on the road. Wearing your seat belt and practicing defensive driving tactics could make a significant difference.
Reasons why odds go up or down in 2014: 
Deer collisions rose by more than 21 percent in Indiana and more than 8 percent in Virginia this year. This is the first year South Carolina is in the top 10 with a 1 in 93 chance of colliding with a deer.  What causes these significant changes in deer collision rates?
"Periods of daily high-deer movement around dawn and dusk as well as seasonal behavior patterns, such as during the October-December breeding season, increase the risk for auto-deer collisions," said Ron Regan, executive director for the Association of Fish & Wildlife Agencies. "Changes in collision rates from year to year are a reflection of changing deer densities or population levels – more deer in a given area increases the potential for collision. Deer populations are also affected by conditions such as new or improved roads with higher speeds near deer habitat, changes to hunting seasons to manage wildlife, winter conditions, and other related factors."
More 2014 State Farm deer collisions facts:
The national cost per claim average is $3,888, up 13.9 percent from 2013 ($3,414).
The months a driver is most likely to collide with a deer in the U.S., mostly due to mating and hunting seasons, are:

November
October
December

Ten percent of the country's deer collisions occur in Pennsylvania (123,941 collisions), though when taking into account the amount of licensed drivers in the state, West Virginia still edges out as number one with a likelihood of 1 in 39 compared to Pennsylvania's 1 in 71 (second ranked state).
For more safety tips and state-by-state statistics, please click here.
Methodology:
Using its claims data and state licensed driver counts from the Federal Highway Administration, State Farm, the nation's leading auto insurer, calculates the chances of any single American motorist striking a deer during the time frame of July 1, 2013 to June 30, 2014 in all 50 states and the District of Columbia. The data has been projected for the insurance industry as a whole, based on the State Farm personal vehicle market penetration within each state. The State Farm data is based on comprehensive and collision claims only.  Claims involving policyholders with liability insurance coverage only are not included.
About State Farm®:
State Farm Mutual Automobile Insurance Company and its affiliates are the largest provider of car insurance in the U.S. and a leading insurer in Canada. In addition to providing auto insurance quotes, their 18,000 agents and more than 65,000 employees serve 81 million policies and accounts – more than 79 million auto, home, life and health policies in the United States and Canada, and nearly 2 million bank accounts.Commercial auto insurance, along with coverage for renters, business owners, boats and motorcycles, is also available. State Farm is ranked No. 41 on the 2014 Fortune 500 list of largest companies. For more information, please visit http://www.statefarm.com or in Canadahttp://www.statefarm.ca.
All opinions expressed on USDR are those of the author and not necessarily those of US Daily Review.