Read Time:
5 Minute, 57 Second
By Diana E. Ruiz, Special for USDR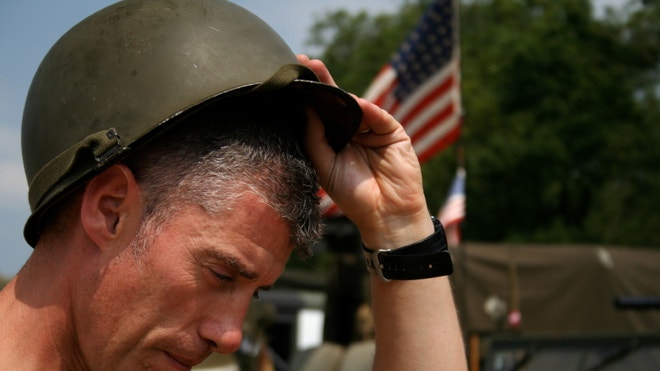 A thousand articles can be written about the problems our veterans face: Homelessness, unemployment, health issues, the backlog of the VA and many untold personal issues they endure on a daily basis. The missing link though is a REAL solution for the main cause of the majority of these issues! The biggest underlying problem is the emotional and mental trauma keeping our veterans from getting back to robust mental, emotional health and fulfilling lives. A real solution will restore a veteran's emotional health which will ultimately ripple out into every other area of their life. This article is devoted to offering a powerful, proven and REAL solution that every veteran can utilize today, right now within their own living room to relieve the effects of PTSD – sooner rather than later – for free. It sounds outrageous but stick with me and I'll explain.
THE MIND, BODY, WATER AND HEALTHY VETERAN CONNECTION
Note to veterans: Everything about you is designed to help you successfully get back to a healthy life. You have an amazing body that is made up of seventy per cent water and it rejuvenates every seven years – even your bones renew! 1 Your body is designed to stay young! Water is at the core of all this natural rejuvenation down to the cellular level. You could say your internal water is your "inner fountain of youth" because of its vital role (another reason to stay hydrated!) This rejuvenating internal flow continues automatically 24/7 and is run by your subconscious mind – amazing! So how does understanding this regenerative "flow" relate to you and PTSD?
PTSD AND REJUVENTATION
Sometimes when we experience a traumatic event such as an experience associated with war, being a victim of a crime, or abuse – another part of our subconscious can cling tightly to that memory then play it over and over causing a stress response each time. This is a very simplified description of what happens with PTSD. This consistent stress response works against our natural rejuvenation because when we are stressed it causes blood vessels and circulation to constrict – think of a hose being kinked. When we feel stress our rejuvenating flow becomes restricted – literally – this is why we age and get ill. Studies conclusively link more chronic diseases to an epidemic of toxic stressful (thoughts and) emotions which can cause migraines, hypertension, strokes, cancer, skin problems, diabetes, infections and allergies.2
Our rejuvenating flow depends on open relaxed circulation! Everything in our life thrives when we feel good; we sleep better, relationships flow smoother, we have confidence to take risks, and our brain actually works better too. Mostly though, less stress just plain feels better. Is it possible to relieve PTSD naturally?
A REAL SOLUTION FOR PTSD
When fearful thoughts persist even after many efforts to reduce them I have found Emotional Freedom Technique (EFT) to be very effective. EFT is a form of emotional acupressure that has helped my clients overcome debilitating issues such as PTSD, phobias, depression, and panic attacks. I have seen many clients get back to their "old" self again after reducing and eliminating the stress associated with memories of traumatic events in their lives. The quick emotional relief it provides is evident by the fact that it lowers cortisol (the stress hormone) by 24 percent within thirty minutes of using EFT.3
Also, a Harvard study shows that EFT reduces depression after four ninety-minute sessions.4.
FEELING BETTER JUST GOT EASIER FOR VETERANS!
Simple instructions for veterans to learn how to do EFT can be found on www.stressproject.org. This site dedicated to providing FREE instructions and sessions to veterans because eight out of ten veterans test negative for PTSD after six one-hour sessions. If you or a loved one is suffering please be their hero and pass this information along to them.
THE REAL PROBLEM
In truth the real problem IS NOT PTSD and the emotional and physical fallout it causes in lives of veterans – the real problem is not knowing what to do about it. I'll repeat that….the problem isn't PTSD and the complications it causes in the lives of veterans – it's the lack of knowing how eliminate it, naturally. I encourage anyone suffering with PTSD or any stress to go to the site mentioned above and become acquainted with this simple technique. I've also included bonus instructions for EFT techniques in my new book Healing Your Life with Water—How to Use Your Mind, Body, and Water Connection to Awaken Your Inner Fountain of Youth.
"Reducing stress is the most important endeavor of your life."
CASE STUDY – Professional Musician
"Ten years ago I was diagnosed with panic attacks and doctors prescribed medication…Paxil…etc…but I didn't like the side effects. I was freaking out and making music for a living was the furthest thing from my mind because I was too scared even to try. I had developed a phobia of food and nervously inspected everything I ate and drank. I was so cynical that when people used words like "love," "joy," and "peace," I felt distain for them. Every problem seemed insurmountable, I resented aging…I felt anger at God, life, fate, my body, my mind, and myself for being so f 'd up.
By year eight, the panic attacks were coming twice a week and I was a sickly, paranoid, extremely depressed, miserable mess.
I finally feel amazing, and absolutely NOTHING on that list above applies to me anymore. I am now a very successful and busy professional musician. Words to describe life now are:
Glad to be alive
Enjoying moments
Smiling
Happy
Love
Joyous
Peace
Harmony
Music
Feeling Strong
Giving
SUCCESS!
I am now truly enjoying almost every waking moment (oh, and the beautiful sleeping moments) of my life." LindiMoo.com
I encourage you to give EFT a try. Tomorrow could be a better day.
1 Morter, M. Ted. Dynamic Health. p. 34
2 Morter, M. Ted. Dynamic Health. p. 4
3 http://www.ncbi.nlm.nih.gov/pubmed/22986277
4 http://www.eftuniverse.com/index.php?option=com_content&view =article&id=3571&Itemid=2046
BIO
Diana E. Ruiz is a certified practitioner of EFT, a disarmingly simple technique that relieves stress in the workplace and at home. She used this powerful technique to eliminate her own intense social phobia and other fears so she could achieve her longtime dream of being an author/speaker/educator. Diana has a Master's in Communications and has recently been awarded "Businesswoman of the Year 2012" for Western Washington by the National Association of Professional Women.
She shares her unique message about the Mind, Body and Water connection through her seminars and training programs.
www.dianaeruiz.com www.healingyourlifewithwater.com .