6 Ways to Bring the Holidays Into Your Home
By Chaleigh, Special for USDR.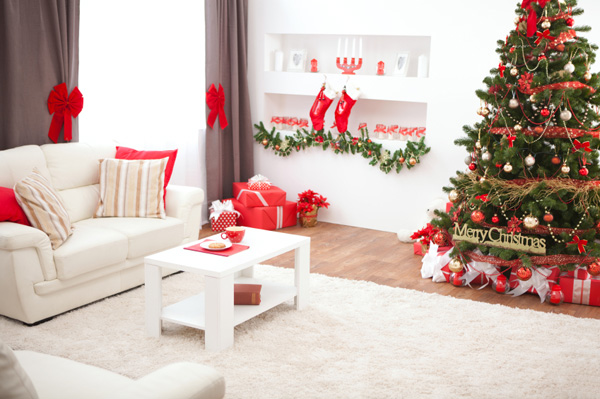 With more and more people living on a tight budget, you might be starting to feel like it won't be a very merry Christmas. I know this feeling well, but I have found a few different ways that you can still get your home holiday ready, even when you have very little money. These six creative tips are a few things that I use in my own home to create some holiday cheer, all while keeping the debt collectors out on the street.
Bowls of Christmas Cheer
One thing you can do is take some festive bowls and fill them with Christmas tree ornaments. Those shiny, glittering glass balls look good on more than just your tree. Choose your favorite ones and mix up different sizes to create a beautiful accent to any table in your home. By going to places such as IKEA, Target, or Wal-Mart, you can find extremely cheap Christmas ornament balls that you can use for this simple project.
Christmas in the Air
Another long-standing favorite is to dot your home with festively scented candles. Peppermint, baking cookies, pumpkin pie, evergreen, cinnamon and gingerbread are all very popular choices. The scent really gets you and your family into the Christmassy mood. Target sells extremely cheap candles that can be used for several years during the holiday season. You can also consider purchasing small oil lamps, which are cheap to refill and use, all while creating a strong holiday small throughout your entire home.
Jingle Bell Rock
Starting after Thanksgiving, consider breaking out your collection of holiday hits. Christmas music does a great job at setting the atmosphere and reminding your little ones that Santa is on his way. It also creates the right mood for when you're setting up and decorating the family tree. With services such as Spotify and Pandora, you can have access to a wide variety of Christmas music for free, which can even allow for you to explore Christmas songs that come from other cultures.
<
Get Cooking
As many people know, the holidays are a time for good food, and plenty of it. From cookies to roasts, there's no limit to the succulent things you can make. Consider using this opportunity to try making some new things. Browse through magazines and surf the web for different holiday-themed recipes that appeal to you. This is also something that your kids will love to get in on. They'll enjoy sprinkling colorful sugar on cookies or frosting cupcakes to look like snowmen. Good Christmas food can help to create a wonderful atmosphere in your home, even if you do not have a large amount of expensive decorations.
Deck Your Halls
One of the most visually appealing, yet inexpensive ways to spruce up your home for Christmas is to deck your halls with boughs of holly. Not real holly, of course, but silk holly. Silk plants make a spectacular addition to your Christmas decor and can be placed almost anywhere. There are so many different things that you can do with this cheap decoration that the possibilities are endless. Try tucking some in planter's baskets and putting them on dressers, or possibly hanging them from your ceiling. These plant basketsfilled with holly can also make great centerpieces for your table.
Twinkling Starlight
If you really want your home to stand out this holiday season, you can't go wrong with lights. With so many colors and types available, it's not hard to find something to suit your tastes. Lights are also extremely cheap, and they can actually help you to save money on your electricity bill if they are used instead of your main light fixtures, since they tend to be very efficient. Try hanging them from your fireplace mantle, along your walls, or even drape them over dressers and cupboards. When you turn your main lights off at night, these festive strands of light will provide a relaxing atmosphere that's sure to get you in the Christmas spirit.
Chaleigh is a writer and photographer from NYC. When she isn't in her tiny apartment hovering over her keyboard, you can find Chaleigh exploring the big city and traveling. Chaleigh also loves to spend time with family and friends, often spending the weekends with her nephews and nieces.
All opinions expressed on USDR are those of the author and not necessarily those of US Daily Review.