Read Time:
2 Minute, 34 Second
By USDR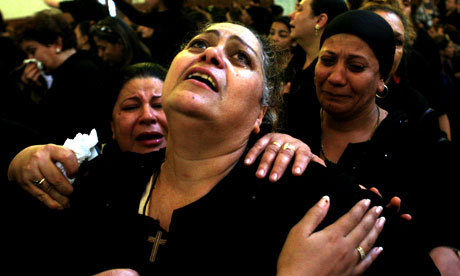 Coptic Solidarity is severely disappointed by the insubstantial response of Libyan and Egyptian authorities regarding the murder of seven Coptic Christians in Libya on February 25. The individuals, who had all been shot execution style in the head, were found on a beach in Benghazi's Jarhoutha suburb.
The victims were killed simply because of their religious identity, which constitutes a crime against humanity.  Both the terrorist groups and Libyan authorities are responsible for these egregious murders.
There has been a systematic targeting of Copts in Libya by Islamic Jihadi groups allied with Egyptian counterparts since the fall of the Gaddafi regime.  Such targeting includes the imprisonment and torture of five Copts accused of "proselytizing" in Libya. One of the five, Ezzat Atallah, died under torture by Libyan state agencies. Coptic churches have been burned in Libya and more than one hundred people have been detained and tortured during this timeframe.  Barbaric persecution of Copts has also included the raping of women in front of their husbands.
The Egyptian state's apathetic response to the obvious targeting of its citizens is best illustrated by the words of the Egyptian Foreign Ministry spokesman, Mr. Bader Abdul Ati.  Mr. Ati attempted to justify this week's brutal murders by claiming that "Copts are not targeted in Libya," and that behind the crime lays "some criminal motives, in the context of illegal immigration where there is disagreement between the victims and gangs that were trying to smuggle them." Such false accusations and irresponsible remarks are equally condemnable as the murders because it casts blame on the victims and undermines any legitimate pursuit of justice.
Coptic Solidarity holds the Egyptian government responsible to protect and advocate for the rights of its citizens. Blame shifting to the victims, terrorists groups, and the Libyan authorities signals that others can attack Copts worldwide with impunity.
We urge the Egyptian government to take the following immediate actions:
The Egyptian National Security Council to issue a strong condemnation of this atrocity.
Summon the Libyan Ambassador in Cairo and lodge a formal protest regarding the targeting of its citizens in Libya.
Form an investigative commission, composed of Libyan and Egyptian authorities, in addition to a representative of a neutral international body, to investigate the circumstances of this heinous incident, and bring the perpetrators to an urgent trial.
Demand that the Libyan government offer fair compensation to the families of the victims of this incident and previous incidents.
Coptic Solidarity will monitor the actions of both the Libyan and Egyptian governments to this incident and will advocate in defense of the victims at international fora in the event of failure to adequately address the incident.
Coptic Solidarity is non-profit organization dedicated to leading efforts to achieve equal citizenship for the Copts in Egypt. For more information, contact Hal Meawad 240-644-5153 or info@copticsolidarity.org