Liberty University Ranked Among Top Military Schools in the Country
By USDR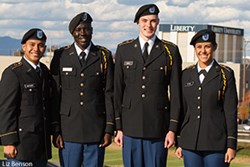 Liberty University Ranked Among Top Military Schools in the CountryLiberty University was recently ranked No. 6 among top online and nontraditional colleges in the 2014 Best for Vets student survey conducted by Military Times Edge.
Liberty was also ranked among the Best Colleges for Veterans by U.S. News & World Report. Colleges that were included in the rankings participated in federal initiatives designed to help veterans and active-duty service members complete their degrees. Likewise, the university has been included in G.I. Jobs magazine's list of military-friendly schools for four years in a row.
"It is our honor and privilege to ensure that service members, veterans, and their families have the tools they need for educational success," said Emily Foutz, director of Liberty's Office of Military Affairs. "We are continually looking for ways to aid our military students, and it is a blessing to have been recognized as one of the best colleges for veterans."
Liberty is recognized among the country's top military-friendly schools largely because its efforts are aimed at meeting the specific educational needs of service members and veterans, whether residential or online. Nearly 20,000 current Liberty students are service members, veterans, or military spouses, representing all branches of the U.S. armed forces. More than 8,500 are currently on active duty or serve in the Reserves or National Guard.
Liberty is proud to support the nation's military by preparing men and women for a military career and a promising future. The resources of Liberty's dedicated Office of Military Affairs provide service members with tuition discounts, fee waivers, book vouchers, as well as family resources and student care. As part of its military financial support, Liberty also offers the Heroes Fund Scholarship for veterans wounded in the Gulf Wars and for spouses of those who lost their lives during those conflicts.
For more information on military benefits and scholarships, please contact LUMilitary(at)liberty(dot)edu.
All opinions expressed on USDR are those of the author and not necessarily those of US Daily Review.