Saudi Billionaire Prince: Fracking Competitively Threatens 'Any Oil Producing Country in the World'
By USDR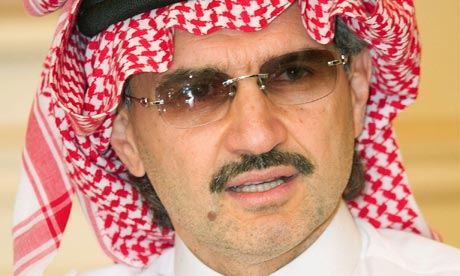 Saudi Arabia's Prince Alwaleed Bin Talal, a billionaire businessman and nephew of Saudi King Abdullah, said the production of shale oil and natural gas in the United States and other countries, primarily done through fracking, is a real competitive threat to "any oil-producing country in the world," adding that Saudi Arabia must address the issue because it is a "matter of survival."
New shale oil discoveries "are threats to any oil-producing country in the world," said Prince Alwaleed in an interview with The Globe and Mail. "It is a pivot moment for any oil-producing country that has not diversified. Ninety-two percent of Saudi Arabia's annual budget comes from oil. Definitely it is a worry and a concern."
Alwaleed also commented that many Saudi leaders did not comprehend the threat posed by oil and natural gas production from shale. However, he said he would use his influence to keep pressing the issue.
"I will make them get it, there is no doubt about that," he said. "I'll make them get it. It is a matter of survival. There is no choice but to get it. I will keep pushing until they do."
"The majority of Saudi Arabians get it," said the prince. "We will mobilize the media, mobilize the people to put maximum pressure on the government to do things to rectify the problem."
Prince Alwaleed has been warning about the threat posed by fracking shale in places such as the United States and Russia for some time. Back in May 2013, in an open letter to the Saudi oil minister, Ali al Naimi, as translated from Arabic by the Wall Street Journal, Prince Alwaleed said, "With all due respect to your Highness' viewpoint about shale gas and that it poses no danger on Saudi economy at 'the present time,' I was hoping that your Highness would also shed light and focus on the danger of this matter in the 'not-so-distant future,' especially that America and some Asian countries made big discoveries in shale gas extraction which will affect the oil industry around the world in general and Saudi Arabia in particular."
"It is necessary to diversify sources of revenue, establish a clear vision for that and start implementing it immediately," said the prince, who added, "we see that raising North American shale gas production is an inevitable threat."
Workmen at a Chesapeake Energy natural gas well site near Burlington, Pa., in Bradford County. (AP File Photo)
During hydraulic fracturing, or "fracking," a mixture of water and sand (99.5%) and chemicals (0.5%) is injected into a deep horizontal well at high pressure, creating fractures in the rock out of which crude oil and natural gas, can flow. Because of fracking the shale deposits in places such as Bakken in North Dakota, Eagle Ford in Texas, and Marcellus in Pennsylvania, the U.S. production of oil and natural gas is increasing dramatically.
According to data from the U.S. Energy Information Administration (EIA), fracking (and horizontal drilling) has resulted in the United States becoming (in 2010) the world's largest natural gas producer.  Also, in October 2013, domestic oil production surpassed the amount of oil imported into the United States for the first time since 1995.
In addition, because of fracking, America is projected to surpass Saudi Arabia and Russia as the largest oil producer in 2015, according to the EIA.
In 2008, the United States was producing 5 million barrels of crude oil per day; because of fracking, America is now producing 7 million barrels per day.
According to the American Petroleum Institute (API), "A little more than a decade ago natural gas production from shale accounted for 2% of total U.S. output. Today that figure is 37%, and another HIS Global study projects that natural gas developed through the use of hydraulic fracturing will rise to more than 75% of the domestic supply by 2035."
All opinions expressed on USDR are those of the author and not necessarily those of US Daily Review.