The Plight of Syrian Adolescents
By USDR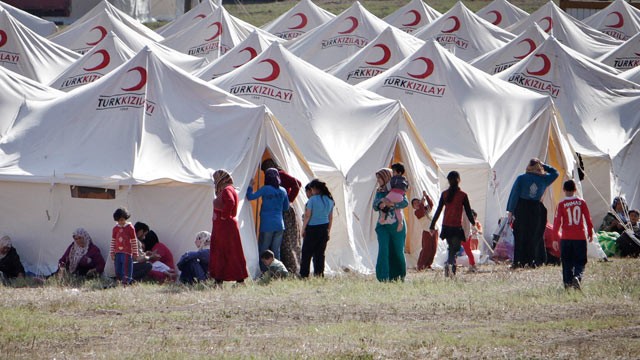 In Syria and the surrounding region, whether today's youth become a positive or negative force depends on what happens over the next three years, according to global humanitarian organization Mercy Corps. Of the 1.2 million children forced to flee Syria, nearly 400,000 (one of every three) are between the age of 12 and 18.  In the new report "Advancing Adolescence," Mercy Corps describes obstacles facing Syrian refugee youth and ways to prevent their becoming a 'lost generation.'
"As the first generation of Syrian children affected by years of conflict, these adolescents face the monumental task of repairing a broken country," says Matt Streng, senior youth development advisor at Mercy Corps and author of the report.  "Still, 68 percent of Syrian refugee youth are currently out of school, mostly due to legal and social barriers to education in host countries."
Mercy Corps conducted 16 focus groups in Jordan and Lebanon with more than 150 Syrian adolescents and their host-community peers. Asked to create pictures of their lives, the teenagers shared insights on their current reality and imagined futures. While both Syrian boys and girls described a pervasive sense of hopelessness, many boys have fixated on returning to Syria to join the armed struggle. Syrian girls, kept home by their families for safety reasons, reported feeling physically and socially isolated.  All of the young people expressed a desire to continue learning and to have access to public spaces, whether for sports or service projects.
"The youth we worked with are hungry for opportunities to gain recognition and respect for their skills and to contribute to their communities," says Streng.  "We can't afford to let Syria's next generation of adults slip through the cracks or fall prey to extremism."
Mercy Corps recommends three areas of focus to secure a better future for Syrian adolescents:
Reduce barriers to formal education and provide alternative learning models;
Develop job and leadership skills that improve future employability;
Provide activities that reduce the pervasive sense of isolation and improve adolescents' psychological well-being and connection to their communities.
Read or download the full report.
About Mercy Corps
Mercy Corps is a leading global humanitarian agency saving and improving lives in the world's toughest places. www.mercycorps.org
All opinions expressed on USDR are those of the author and not necessarily those of US Daily Review.