Former Congressman Dennis Moore to Share his Perspective on Living with Alzheimer's as a Member of the Advisory Council to the National Alzheimer's Plan
By USDR
The Alzheimer's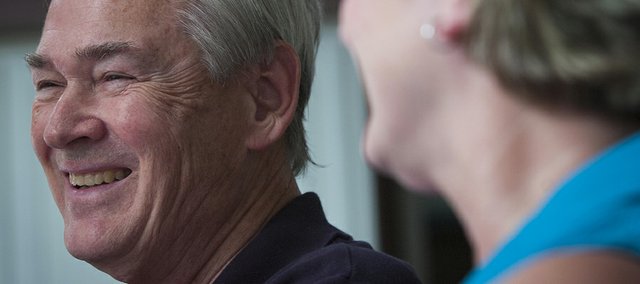 Association® applauds the Department of Health and Human Services (HHS) on selecting former Congressman Dennis Moore (D-KS) to share his perspective on living with Alzheimer's as the newest member of the Advisory Council on Alzheimer's Research, Care, and Services to the National Plan to Address Alzheimer's Disease. The Alzheimer's Association urged the creation of this important role on the Advisory Council to ensure the voice of this growing population is heard.
"I am honored to join a group that is focused on preventing and effectively treating Alzheimer's disease by 2025," said Congressman Moore. "Alzheimer's is a bipartisan issue, and I urge my former colleagues to unite behind it, allotting the necessary resources to fight a public health crisis that millions of families just like mine are facing."
Two years ago, Congressman Moore publicly announced that he had been diagnosed with Alzheimer's disease after noticing difficulty remembering events and managing personal finances. Since then, Congressman Moore and his wife, Stephene, have worked diligently to raise the profile of Alzheimer's disease, by advocating to Congress and participating in the Alzheimer's Association Advocacy Forum.
"By sharing his experience living with Alzheimer's, Congressman Moore is helping everyone living with the disease and focusing even more attention on implementing the strongest possible National Alzheimer's Plan," said Harry Johns, President and CEO of the Alzheimer's Association and member of the Advisory Council. "As a member of the Advisory Council, his perspective will contribute significantly to the conversations about the human and economic threats of the Alzheimer's epidemic."
The Alzheimer's Association encourages early detection and diagnosis of Alzheimer's so that people living with the disease are able to participate in decision-making and advocate for themselves. In addition to having national board members living with the diagnosis, in 2006, the Alzheimer's Association established a National Early-Stage Advisory Group of people in the early-stages of the disease. The Early-Stage Advisors help the Association provide the most appropriate services for people living with early-stage Alzheimer's, raise awareness about early-stage issues and advocate with legislators to increase funding for research and support programs.
There are currently more than 5 million Americans living with Alzheimer's disease and that number is poised to grow to as many as 16 million by 2050, according the Alzheimer's Association 2013 Alzheimer's Disease Facts and Figures report. For more information, visit alz.org.
All opinions expressed on USDR are those of the author and not necessarily those of US Daily Review.