Tribute Song to Nelson Mandela, "Mandela: We Thank You"
By USDR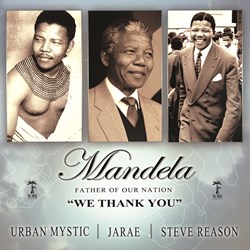 On the day after the passing of the iconic leader Nelson Mandela, Cecile D. Barker, Chairman and Chief Executive of SoBe Entertainment International, sat down for an interview. Barker stated: "In 1968 I had the privilege of visiting South Africa and promoting an 'American R&B Tour' with the artists Peaches and Herb, Arthur Conley, Oscar Toney Jr., and Inez Foxx as performers. Shockingly, I was issued a visa with my passport stamped as "Honorary White" so I could stay in white hotels, if I so chose, in the various cities of the country; I also saw the rhythm section of our band, all Black, forced to perform on stages behind a black curtain hiding them from all-white audiences they were playing for in the "whites only" theaters; I saw those same black band members play, visible on stage in black theaters to the audience, while the white members in the band were NOT hidden behind any curtains; I was roughed up and beaten because I allegedly violated the laws of the country by pouring an alcoholic drink from the same liquor bottle a white South African model poured her drink from, even though she was the one who offered me a drink, during a live performance at an event venue; later that night, after I missed the tour bus back to my hotel, we were pulled over, beaten and arrested, simply because the same lady offered, and I accepted, a ride in her car from the venue back to my hotel. When I was finally allowed to leave South Africa, I hated that country and promised I would never return."
"However, one incredible man… my only hero to date… made me ultimately change my mind."
Fortunately, twenty-two years later, Nelson Mandela was released from prison. That day, February 11, 1990, the country of South Africa changed for the better. Mandela was later elected President of the SA Republic in 1994… the same country, the one that had oppressed him and jailed him for 27 years.
He later brought South Africa respect, credibility and acceptance by fellow countries. This resulted in the lifting of economic sanctions and the end to an international ban that prohibited the country and its athletes from participating in world sports; a ban, which lasted over three decades. South Africa eventually was selected to host the 2010 FIFA World Cup, and did so successfully, which showed how far the country had progressed.
Simply put, Mandela humanized South Africa and taught the world how to love and forgive, unconditionally. To honor this great man and to thank him for his sacrifices in his fight to end apartheid, SoBe Entertainment is releasing "MANDELA: FATHER OF A NATION: WE THANK YOU" to the world. The song can be heard and shared on YouTube.
This present generation, and several others to come, must know of this man and what he taught and gave to this world. To all those oppressed, the poor, those discriminated against daily, those who are wrongly incarcerated, and those who are outcast from society, we all must hope and believe that one person, who is selfless, committed and focused, can make a material difference in this world.
Madiba proved to the world that we can make a material change by fighting for freedom and true equality for all those oppressed and discriminated against in any country.
Mandela's message to all of us was, and forever will be: "LOVE; FORGIVE; AND NEVER, NEVER GIVE UP."
The song "Mandela: Father of a Nation: We Thank You" can be downloaded on iTunes at:http://smarturl.it/WeThankYouMandela.
All opinions expressed on USDR are those of the author and not necessarily those of US Daily Review.